As you walk up the hill out of Bled along Ljubljanska cesta, on your left there is a small green shack.
It is filled with the stuff of adventures. It attracts your attention because it looks a little out of place, perhaps a little out of time.
It belongs here, but did it come from somewhere else?
There is nothing like it in Bled.
A hundred years ago it was a tailor's shop belonging to the King's tailor. The Kingdom of the Slovenes, Croats and Serbs was founded in 1918 and the royal family had a summer palace where Vila Bled is situated. The little green shack is the place where the tailor's great grandson Domen Kalajžič runs 3glav Adventures.
3glav (or Triglav) is named after the highest mountain in Slovenia.
You can see its peaks from Bled if you look to the west. "It was at the old Bled Lesce train station before the first world war."
Domen tells me. "My great-grandfather bought the ticket office when they built the proper brick train station in Lesce. He bought the hut and somehow transported it to Bled and put it where 3glav Adventures office now is. The building where it stands now protected." It is more than 200 years old and has been in Domen's family for 100 years.
The humble green wooden structure is as much part of Bled's history as any palace. It was passed from generation to generation.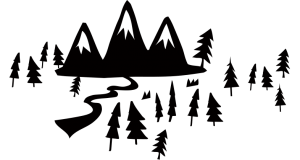 "Four or five generations now. Usually the same business passes from one generation to another, but this little green hut has served our family for totally different types of businesses in each generation." First a tailor's, then Domen's mother ran a herbal pharmacy. Now an adventure business.
Domen is the first generation of adventurers. Three years after Slovenia became an independent nation in1991, Domen began traveling. It was a gap year between high school and university. "It as the new age of back packing – the pioneering years.
Economically it was pretty hard. Air tickets were a lot more expensive. I had traveled before, but this was my first serious trip."
Aged 18, free for four or five months, Domen first headed south to Australia and New Zealand. It was the beginning of a way of life.
Every year since then he has spent four or five months traveling. That's where he got the travel bug, but the idea for running a tourist adventure business had not even begun to form in his mind.
Domen's focus was still on travel. When he graduated from university in 1999 with a degree in Information Technology & Management, the world was his to explore and he spent a whole year discovering it.
Yet, there were no thoughts about starting a tourism business. He settled in America for three years, "I was in California from 2000 to 2003 running a small computer company named Brainworks. Of course, in my free time I was exploring Santa Monica mountains and other outdoor areas every weekend by mountain bike or hiking. I know North America pretty well and I keep returning every year since 1996 doing local road trips and hiking in the less known regions. The great outdoors there are magnificent, on contrary of what our parents here in Slovenia always told us, that in America, here's just concrete, a concrete jungle."
"It was the best time to be in the IT business in Los Angeles. I started my computer company there, it was great fun. All Slovenians have a strong connection to the outdoors. Our parents take us to the mountains at the weekends. We hiked in California and still travelled as much as I could from there. But then I got a bit homesick. I came back one summer, and I just stayed."
Bled, the mountains, the outdoors were the perfect base for Domen and having settled home worked with a friend in the mountain bike business for a year.
"For 10 years, from 1994 to 2004, with all my travelers and all the locals I clicked with and had great times with I kept on inviting everyone to my beautiful country expecting that maybe one out of ten might come. Eventually almost everyone I invited came from all over the world."
His parent's house – next to the green shack – turned into an unofficial hostel. "People kept coming and my parents made them breakfasts and I was taking them around. I really enjoyed it – it was my hobby next to work. There were people from all over the world staying with us and I am so thankful to my parents – they were non-payed hostel operators."
Here was the beginning of the idea. People kept on coming and Domen was very proud to show them the best of his country and this beautiful region of Gorenjska (Upper Carniola). He had bought an old Chrysler Voyager, a luxury mini-van with six seats plus a driver.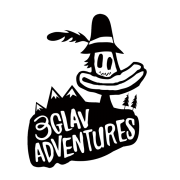 "A friend was managing Bledec Hostel." Then, from the start of 2000s until 2006, it was the only hostel in Bled right at the top of the hill in the old town, beneath the castle. It is still a popular place at Grajska cesta 17. "She told me that the young people or active people who come to Bled get bored after two days seeing the island, the castle and of course Vintgar. And then they don't know what to do."
He had the van and a fulltime job in the mountain bike business. "I connected the dots from all the places my friends who visited over the last ten years liked the most, to our main adventure, the Emerald River Adventure." He created a full day trip from Bled all around the Triglav National Park and Julian Alps.
"Every evening after work, I went to the hostel and I presented the trip to the travelers there." Starting slowly, one traveler then two, by the end of the season he had five in the mini-van taking the first version of the Emerald River Adventure.
After the summer he made the big decision. He quit his "real" job.
"And no matter what happens," He said. "That's what I really want to do."
The only resources Domen had were the van and some brochures. The shack was still his mother's apothecary business. Around the same time, she decided to retire. "They wanted to rent the place, but I said, no, I want to try something new."
It was a slow start – but Domen saw that tourism was changing. People were drifting away from the beach holiday, lying in the sun doing nothing, and were engaging in healthier more adventurous holidays.
This is when the 3glav Emerald River Adventure began. They still run today. "It's a great introduction to the greater area around Bled; Triglav National Park and Julian Alps. It starts at 8 o'clock in the morning from Bled. It's a road trip by minivan with up to 8 people plus our guide.
We do a loop through Kranjska Gora, Jasna Lake, and make the first hike – around 45 minutes – at the top of Vršič where they get great 360-degree views of the Julian Alps."
Kranjska Gora is a beautiful alpine town a few kilometres from Italy in one direction and Austria in another direction. Skiing is the main sport in the winter with spectacular scenic walks and driving tours during the rest of the year. High above is Vršič – "the Russian Road" – the highest mountain pass in Slovenia at 1611 meters altitude and was built by Russian prisoners of war in the 1st world war.
The Emerald River Adventure brings people to lesser known places – off the beaten path – in Triglav National Park. There are three 45-minute walks. The next hike is to the source of the Soča. "Then everybody meets the Soča from the very start, and then we spend most of the day all the way along the river. Most people do the optional rafting in Bovec. And then we take another hike to the most amazing Kozjak waterfall."
The trip continues through Kobarid and close to Tolmin the mini-van is put on a train for the next part of the journey to Bohinj. "You sit in the van on the train and there is a 45-minute fun ride."
The day finishes in Bohinj and then back to Bled.
The adventure attracts all sorts of people from 18 to 75, and families too. I asked Domen about older people, people who have worked in an office all their lives, now retired and enjoying the beauty of Slovenia. How do they cope with the adventure? "We don't consider anything we do as extreme." He says. "All our adventures are like any Slovenian spending their time outdoors. We put safety first but don't do anything intensive. They are just nice getaways to the great outdoors. Everyone should be at least moderately fit. It's not suitable for someone who doesn't like nature. Age doesn't matter."
There are likely to be people from all over the world in any group of eight who are together for one day only. The bonding of those people is one of the things that makes this trip the most interesting.
When tourism is well managed, it can be a great boon to a country or region. Paradoxically, where the environment is fragile, and the balance of nature is the very thing that attracts visitors, tourism can be damaging. That which people come to see, can be destroyed by the people who love it. Over the last four or five years, Slovenia Tourism, Visit Ljubljana and Bled Tourism have worked tirelessly promoting the country. In 2017 there were several international publications pointing to Slovenia – and Lake Bled, the jewel in Slovenia's crown – as the place to visit in 2018.
Domen and I discussed his concerns about the pressures tourism puts on the region.
"Slovenia was under the radar until about five years ago. I think with the popularity in the last five years, we should be careful what kind of tourism strategy we shall have in the future. Slovenia is a very small country and it is fragile. I've noticed Bled doesn't have the infrastructure to cope with masses of people visiting in the last three years. The Slovenian Tourism Organization and all of us should sit down and discuss the future of tourism here. We should focus and specialize in something."
Domen still spends several months of the year traveling to other parts of the world. "I love all the places around the world, really -everywhere is beautiful and just different. You can find beauty in the people everywhere as you can find beauty in nature everywhere, even in the sand desert. Favorites are Northern Thailand, Morocco and Saharan countries, South Africa, Japan. Diversity of cultures and nature is what I like – sometimes differences are so distinctive and pronounced that seems like jumping from one planet to another one."
Domen is keenly aware of the effect tourism can have on the nature his tours celebrate. He looks forward to the time that Bled serves "Respectful tourists who appreciate what we have. 3glav Adventures takes tourists to nature in Triglav National Park, but we are trying to respect and protect our nature as much as possible. And we do. It's in our blood."
"When you travel through Slovenia there's almost no trash or litter anywhere. That's a positive sign, because I visited Belgrade a few days ago and it reminded me of Slovenia in the time of Yugoslavia. It was littered with trash all over the country. Since we got independence everyone has an awareness of preserving our country as much as possible. I'm really proud I can consider my country and my town pretty clean."
The Emerald River Adventure is just one of the 3glav Adventures programes. There is a variety to suit various levels of experience.
From river adventures to balloon trips even skydiving.
"For us the best reward is happy people and then, we are happy as well."
3glav Adventures specializes in summer activities and is open from mid-April to mid-October.
Address: Ljubljanska cesta 1, 4260 Bled, Slovenia
Phone: +386 41 683 184
Web: www.3glav.com
Insider Knowledge:
My few hours crazy busy summer escape alone is to a little hidden gorge 300-400 meters from Lake Bohinj down the Sava Bohinjka river stream. It's a really hidden corner – so I am going to keep its whereabouts a secret. (Hint: if you explore some of the paths and walks near Bohinj Hotel you might find it.)
Our favorite short family escape with our 6 and 8 years old kids is only 10-15 mins drive away from Bled – a "hidden" lake Završnica located at the trail-head for Mt. Stol, beautiful area below Karavanke mountain range that is amazing outdoor playground away from crowds even in peak summer months.
Domen Kalajžič
founder of
3glav Adventures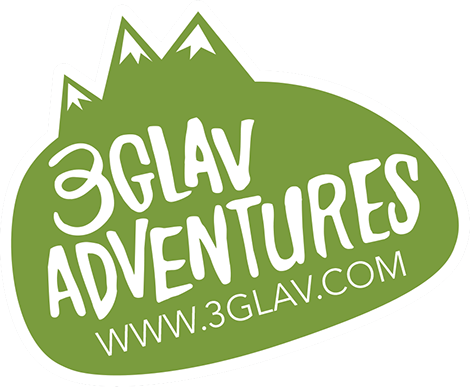 Author of the whole article is Mr. Davy Sims.
You can get a copy of his wonderful books and a very local tips about Bled via his BLOG.